A pattern I always fall into: when I'm going away for a longer period of time (which I'm getting ready to in two weeks, going to Europe for almost three weeks), or have a period of massive change (which will happen when I return, as John will continue to be away for almost a month on his research fellowship), I tend to become almost obsessive with my clothes or researching or wanting more clothes on the Internet. I think of something Louise Bourgeois once wrote - that she wore strange clothes while she was traveling. Last night almost a compulsion researching reclaimed leather hobo or messenger bags. This sudden desire to have a buttery-soft (that's always the description, how food-porno) slouchy and hip bag, which of course is a desire to be this other, ultra-chic person I'll never actually accomplish, that person who doesn't look like she's trying at all. To be the slouchy and hip girl, like the woman who owned that resale boutique in Chicago on Milwaukee, eternally young, cigarette-thin with always an oversized hat, like the Russian fur one that I purchased the second version of at her shop because I longed so to look like her, to have that gamine appeal.When I look back on myself then I realize that I had that - that gamine thing about me - but I didn't see it in myself - perhaps it's always a projection, the cool languid girl, perhaps she doesn't really exist.
I'm really struck how many purses are called "Edie" after Edie Sedgwick. Seems particularly serendipitious - like when everything you're reading chimes off each other, which I wonder if that's more of an inner experience than an outer, or objective one - since the other day I posted on FB: Eve or Edie Sedgwick? After a realization suddenly that that has been the tension of my thirties - the intriguing girl-muse versus the brilliant hag, that mournfulness when I am realizing I certainly am no longer the one and probably not enough the other. That perhaps for me to become the other - the brilliant hag - I need to stop being so aware of things like the fact that people dont' tell me anymore I remind them of Edie Sedgwick. Which, I send up somewhat in
Green Girl
, although when I was (fairly often) told I looked like Jean Seberg or Edie Sedgwick or Audrey H. it was a short hair thing more than anything - usually people trying to project somehow a more traditional femininity onto me, to still situate me in a comforting prettiness, as opposed to seeing anything radical in the act of almost shaving one's head. And, being young, and fairly attractive, mostly attractive because of youth, there wasn't that much of radical otherness to cutting off one's hair, even when it was shaved. The compliment - the contextualizing within the beautiful celebrity - was a way of normalizing something that unsettled them. Still, I have friends - feminist friends - who have said to me, with a tone of disappointment, when they see me after some time (which is basically, all my friends, as I live in basically a hermitage), "Oh, I thought you were growing your hair out" when they see I've cut it all off again, which more than anything is a comfort thing, although for a while there was a compulsion to cutting my hair, that I explore somewhat in The Book of Mutter, having something to do with wanting to replay what happened to my mother, what she looked like during chemotherapy and her death scene, and hope to explore in a series of images or performances called Mythical Suicide, after what Salvador Dali said about Mia Farrow begging Vidal Sassoon to cut off all her hair after her breakup with Frank Sinatra. See also: Britney Spears in the tattoo parlor, Joan of Arc, Renee Falconetti's real tears while playing Joan of Arc. Mythical Suicide - I try to satirize this in Green Girl, somewhat, the sense that when Ruth cuts off all of her hair, she is attempting to destroy herself, or to transcend herself, to escape herself, it is a mystical moment for her, but then it is all gathered up into the realm of normalcy and prettiness, her revolt is quite empty or it's ignored. See also: Robin Tunney shaving her head in Empire Records.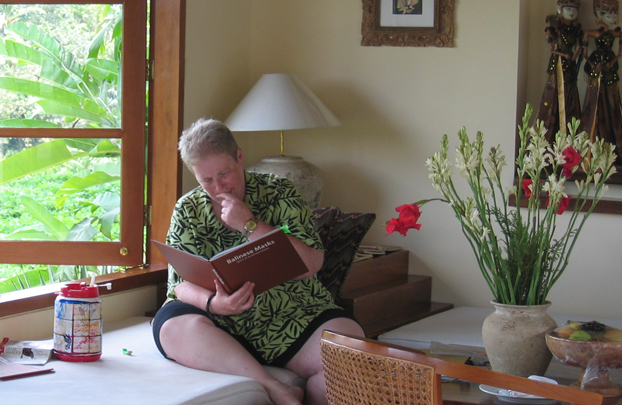 Eve Sedgwick
Edie Sedgwick
Edie versus Eve. I am reading Eve Sedgwick on shame - the glorious, genius Eve Sedgwick - and I love how fleshly her criticism is, how in the intro to her book Touching Feeling she critiques herself, the "good Foucauldian" for not writing autobiographically about sex in this book about affect, but then confesses that it's hard to think about sex, to be a sexual body, while going through chemotherapy, while being a
sick person
. I have given serious thought to how I can possibly write a book on sex (Slapping Clark Gable) while for the most part thinking of my vagabondism, my ambivalent libertinism, as a
past experience
. Regardless how much we attempt to "queer" ourselves, our partnership, I am a rather sedate married person, becoming bourgeois, what with me researching hobo bags and this morning how to sprout in mason jars. We have loving, intimate, sex, when we have enough energy to do so, or can get our noses out of our screens or our books. I have felt this especially reading queer theory lately, like Leo Bersani's "Is the Rectum a Grave?" - I am so interested in theories of S/M, esp. masochism, for Slapping Clark Gable, but I am certainly not being tied in the cellar somewhere, or fucking stranger bartenders any longer, nor do I
particularly
want to be. More than anything I crave safeness, an almost sedateness, in order to do my "work".
Perhaps both Eve is saying in her intro that she craves a bit more of the Edie Sedgwick inside of her. Edie Sedgwick who lived the life of the libertine, of the tortured personality, of the rolling stone whose art was herself, like a flapper, an it-girl ike a Zelda Fitzgerald. But I wonder what it would be like for Edie Sedgwick to have survived, to have been alive today. She would be 69. I try to imagine this other Edie, this older artist or philosopher Edie, who would have theorized her past as a psychiatric patient. The thin girl would have become fat. For some reason this makes me think of that diptych by Hannah Wilke, of herself as a gorgeous, nubile, narcissist, bearing totems on her naked breasts, next to her mother, shrivelled and scarred by breast cancer, which was an image I couldn't look at for a while, because it so took me back, to my mother's last weeks. How Wilke said she "literally incorporated her mother," like I did, which is why I started wearing my hair so close to the head, to get back to her, my chemo Mom I nightmared of, and why I felt such a shudder of revulsion when I tried to take a sexy photograph of myself on my computer the other night, and realized I looked more Eve than Edie, the bad lighting making my scalp shine through, which I realize more than anything is a dread of mortality, of becoming ill, of being Rabelais' senile pregnant hag, who I see as being pregnant with cancer. And then measuring all this against the self-portraits Hannah Wilke took of herself, dying of cancer once she was fat no longer thin, bald against her hospital gown, destroyed terribly brave. A doubling. Edie became Eve? I don't know if it's that simple.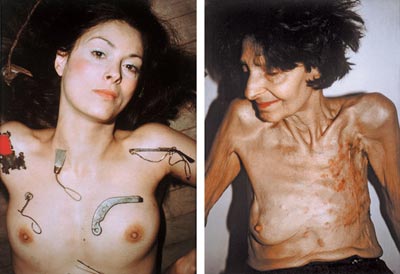 Hannah Wilke, Portrait with Mother
Wilke Intravenus
Renee Falconetti, The Passion of Joan of Arc
We know more Eve Sedgwick as writing about shame, among many other things (Proust too, his memorialized passage of time). But Edie too was an artist, Warhol's Joan of Arc, who lived shame. I too live shame. I carry around with me, my beauty and ugliness and past lives. I who incorporate my mother, who trained me on shame. My own vanity makes me feel shame. My ugliness makes me feel shame.
I have been reading Elizabeth Grosz's Volatile Bodies. What is revolutionary to me, but so simple, in her book, is her idea that our sense of our selves - our mirror image - is steeped in and mired in the body. Our ego is actually our body image. Also: one perceives as much through the body as through the mind. I feel this with memories. I feel this with ideas. Dont' judge me on whether I have exactly accounted Eve Sedgwick's theory or Edie Sedgwick's theory-through-living - I am feeling all this more than I am thinking it.
Another diptych: Macabea and Clarice Lispector, her Joan of Arc. Macabea is the ugly young girl, who idolizes Marilyn Monroe (another Edie), Clarice as author, as director, the former femme fatale dying of cancer.
Another diptych: Corinne Marchand and the director Agnes.
I have started reading Mary Gaitskill's Two Girls Fat and Thin - am devouring it. It's reminding me so much of Jane Bowles' Two Serious Ladies, in the best way possible. I wish to say more of it, but do not know how.
Addendum: I am adding as an addendum, as an attempt to be as authentic as possible, this project of attempting to write the self, in this great confessional of the Internet, that when I collaged these images together for this post-essay, which might be part of something in the book, maybe, who knows, I thought of including a self-portrait of myself, like possibly one of the less-flattering images I took on my MacBook the other night that reminded me of Eve Sedgwick, even when I was attempting to pose so seductively, which for me usually means pursing my lips. This felt a lot like all of the girl-Tumblrs I have been looking at lately, where amidst collages of others - ideal I's often - including Edie Sedgwick, a very popular girl to Tumblr - are these self-portraits, these flashes of a polished self, like school photos, although there is something often sad and raw about these self-portraits, but what they have in common is that they are often exhibiting the pretty self (not all Tumblrs have this feature, but it is a commonality of a certain sort of Tumblr, it seems). But I didn't want to show an ugly self, especially not the shame of an unflattering self posing with a quite revealing turquoise bra, a lacy demibra I bought to replace my rather matronly miltaristic undergarments, and I didn't want to show a pretty self, the images we often put up on Facebook. So I showed nothing. Although I wonder - just like when I am gleeful of flashes of the self in criticism and the essay, whether readers of this blog are eager for flashes of what I look like, realizing that for instance last post I showed my foot. I don't know. I find this interesting more than anything, and something I wanted to comment on. This is a reason Lena Dunham is perhaps much braver than me. Because she is unafraid to show an unpolished self. I am unafraid to show an unpolished self autobiographically, but less eager to show myself looking ugly visually, or if not ugly, not polished, with less flattering lighting, perhaps ironic because I am very self-conscious I often show myself in less flattering light, often, which I certainly do here and do even more so in Heroines, gladly revealing myself as being vain, pouting, depressive, self-involved, and more than a little crazy, within the space of the text. Although all you have to do is Google me to see extremely unflattering photos of me from various readings, where the light shows through my scalp, and I look rather bloated and bald. Actually, quite hilariously, when you Google me, one of the first images that has always shown up, quite bizarrely, is a quite famous and older woman poet, who I won't mention by name, but let's just say this coincidence is another entry in the Eve/Edie dialectic.
Okay for catharis' sake, I've forced myself to take a picture, here, now, of what I look like, having not showered for days, my face having weird red spots on it today, underslept. The only posing is making sure my framed poster of Belle de Jour gets in the photo. Author, not actress-me.
Also I would really like to write something here about Kathy Acker, but don't know what it would be. About her sexy butch self-portrait, Eve or Edie, and how she problematizes the self-portrait in her work. Also maybe about Francesca Woodman. Maybe more about Lena Dunham. This is Essay #1, which is always, just, a futile, attempt.
Perhaps this is all a question of the NAKED versus the NUDE.